The Best Bits From Retail Global 2016 & What We're Excited About For 2017
21st February 2017
Back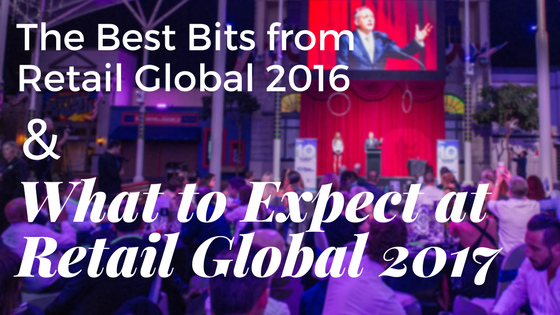 As summer peaks, we at Retail Global are getting excited. Not just for cooler weather – though that can't come soon enough – but for the big event we've been working towards all year: Retail Global Gold Coast.
This year, Retail Global Gold Coast is May 24th – 26th 2017 at the Gold Coast Conference & Exhibition Centre.
At our 11th and largest Australian eCommerce conference, you can expect to see not only an expanded schedule and learning tracks but some of the most influential leaders in online merchandising.

We received some tremendous feedback and commendations from our conference attendees last year. This year, we thought we'd share some of our attendees' favourite highlights from our eCommerce event and give you a sneak peek of what to expect this May.
Social Selling Reaps Rewards for Online Sellers
If there's one thing that was emphasised over and over again, it was that online retailers need to sell where their audiences are: social media.
"Don't be the old man yelling at kids to get off his lawn. If you don't understand the new social networks, learn them. They are where the users are, and are not going away."
With options like SnapChat, Instagram, Facebook, Twitter, and Google+ (and those are just the networks popular in Australia!), it can feel overwhelming to begin. eCommerce shops need to understand that this is where their customers are spending their time, and the best way to engage them outside of the shopping cart is by making yourself known with fun and helpful content. Expect to take home even more actionable tips this year as our Marketing & Social learning track will host several workshops on social engagement and selling.
Facebook Offers Huge Returns for Savvy Merchants
What's the most-used social media platform out there? Facebook. While many eCommerce merchants are running banner ads and PPC ads, they may not realise the full value that Facebook offers to online retailers.
Facebook video, Facebook Stores, newsfeed ads, and Collections all offer brilliant ways to reach out to your current audience. The key is sharing interesting and relevant content to grab your buyers' attention.
eCommerce merchants who are content-poor right now can still succeed on Facebook. Try a newsfeed ad with a gorgeous picture, then market it to a custom-built lookalike audience. Facebook's impressive audience-creation tools can help dial in your marketing spend to your most likely prospects and can really help get your product out there.
End-to-End Tracking is Essential for Retailers Large and Small
There's no longer any excuse to not have end-to-end reporting in place. Retailers can now measure everything, like materials and production costs, salaries and overheads, and marketing spend. Now, more than ever, retailers can measure how much money is required for each sale. This kind of information is essential for merchants to understand and improve on their selling strategies.
Jim Banks, Shahid Awan and Michelle Bourke hosted an amazing session last year about how to track your costs and returns throughout the buyer's journey. Expect to see more actionable strategies in this year's Advanced learning track.
Record-Setting Fundraising at the Retail Global Gala Dinner
We put tonnes of work into making Retail Global Gold Coast a success each year, which is why we were so pleased with the enthusiastic participation and attendance of our Gala Dinner. With the red carpet entry, the tremendous fun of having Movie World to ourselves, and of course the great food, we're so happy that so many of our guests enjoyed themselves.
This year, the proceeds of our Gala Dinner go to our favourite charity Retail ROI, which is dedicated to helping orphans in struggling communities worldwide with the help of the retail industry. This year, Retail Global will be taking a team of C-level execs over to Haiti to assist in building a school and living quarters for orphans and teachers. So far, we have raised over $400,000 for charity. We cannot wait to grow this number significantly in 2017!
We recommend purchasing your Gala Dinner tickets early this year – tickets are 20% off full-price in February, and you won't want to miss the most impressive event of the entire conference.
Mobile is Where the Online Shoppers Are
Mobile shopping is transforming the eCommerce landscape. That's why mobile was such a huge trend and point of discussion at the 2016 conference. From mobile-responsive shopping experiences – a must – to mobile email templates and apps, online merchandisers need to adapt their digital presence to account for the way we now shop.
Tim Ash and Vicki Cantrell drove the point home in their respective sessions last year. This year, we expect to see even more discussion about mobile shopping and optimising your digital presence for smaller screens.
What to Expect at Retail Global 2017
Expect to see even better content, more peer learning opportunities, and more fun at Retail Global 2017. We'll be making the full line up of speakers, presentations, and events available soon at RetailGlobal.com.au. Until then, here's a sneak peek of what to expect at the best of the Australian eCommerce conferences:
How Amazon will impact Australian eCommerce retailers and how to adapt your operations to take advantage of it

Smart social selling and marketing strategies to reach more customers than ever before

Expanded learning tracks, including Mind Frame, where you'll be inspired and get motivated

Cross Border selling advice, tools, and actionable steps to take your business global and reach untapped markets
If you enjoyed yourself last year at Retail Global, or you're a first-time attendee, you can learn more about the conference and logistics here.
You can buy tickets online at any time for yourself or your party. We recommend buying soon, as the special early-bird prices are only available for a limited time.